By JACLYN SNOW
Safe, clean, and comfortable accommodation is a priority for travelers which is often so expensive that it compromises the duration of your travel. I know a few dozen ways to find cheap or free accommodation, about half of which I've used myself and the others which I've researched and been told about by friends who travel, who will enrich those articles with their insights and photographs from around the globe.
My last article described how to rent a free or cheap car, camper van, or R.V. The logical next step is to discuss how to park and camp overnight for free! This act is informally known as boondocking, otherwise referred to as dry camping or independent parking. Whether you own a camper or R.V., are renting one, or will be relocating a rental vehicle for a dollar per day, you can save a lot of money by making yourself at home in your recreational vehicle. This guide to free camping in a vehicle is packed full of resources to help plan your ultimate road trip!
Boondocking: How to Sleep for FREE in an R.V.!
Melissa and Chris of outdoorsisfree.com have been traveling in their camper van for a year, and they always park overnight for free! Melissa took this photograph of Lake Havasu, AZ, U.S.A. from their camper van window.
My Top 5 Global Resources for Finding Free R.V. Campsites:
1.  iOverlander has a truly massive database of verified free camping spots in countless countries all over the globe!!! Search campsites by location, type of place, amenities, check-ins, and reviews. The website is kept very current by its active userbase, and new campsites are always popping up.
2.  Freecampsites.net maps the locations of many free and cheap R.V. camp sites around North America, South America, North Africa, and Australia. Campsites are confirmed and reviewed by members. Filter your search by nearby activities and amenities available.
3.  Boondockers Welcome provides many campsites in 11 countries throughout North America, Australia, Europe & UK for a low annual membership fee. Some of their camping areas are historical, many are beautiful, and all are recommended by members.
4.  Social media is a tremendous resource for travelers to connect on a global level. I highly recommend the Free Campsites group on Facebook which has over 20,000 members exchanging information on this topic.
5.  VWFurgo has a free downloadable up-to-date map with thousands of free campsites around Europe. Members indicate the amenities available at campsites, and leave reviews in a variety of languages.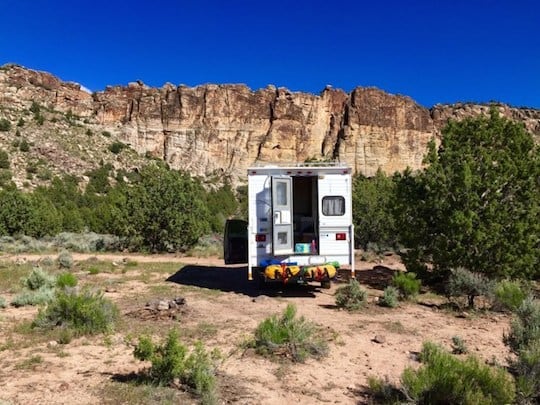 Free camping at Prophecy Wall, Utah, U.S.A. Photo provided by Melissa Thayer of outdoorsisfree.com. Her and Chris's Instagram is loaded with photographs of other beautiful places they've boondocked!
There are so many places you can camp for free in an R.V. or camper van. Read about how to get free overnight parking anywhere by Frugal R.V. Travel, an excellent resource for all information regarding R.V. travel. Below is a list of places you can almost always spend a night or a few for free in a recreational vehicle.
– Factory outlets, shopping centers, and casino parking lots generally allow R.V.'s to stay multiple nights as long as it's in accordance with local laws. Big stores known to be friendly to overnight campers include Walmart, K-Mart, Best Buy, Home Depot, Cracker Barrel, and Costco/Sam's Club. Stores that sell outdoor gear such as R.E.I. or Camping World are also a good bet. Do your research, read other travelers' reviews of camping at these spots, or even better call ahead to ask permission to park your R.V. there overnight.
– Churches will usually allow an R.V. to park overnight in their lot. Call ahead of time. It is considerate (but not necessary) to make a small donation to the church in return for accommodating your vehicle.
– Some R.V. Dealerships welcome overnight parking- otherwise, try to camouflage! Again, call ahead and be polite.
– Truck stops often have a separate parking area for R.V.s. Use these R.V. parking lots instead of parking alongside the big trucks as a courtesy to the truck drivers who have fewer parking options than you.
– You may be able to spend the night in an official rest area, park, picnic area, or fairground (in off-season). It depends on local ordinances, so call in advance!
– I've heard stories of spending nights in parking lots of cemeteries, movie theaters, night clubs and hotels, but I don't personally recommend it!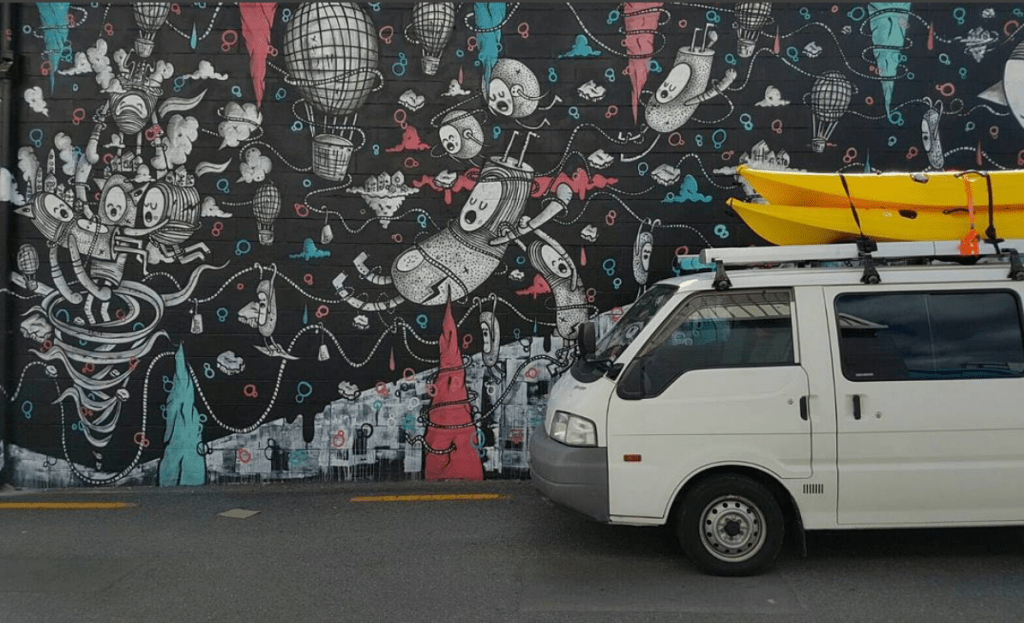 Photo of Suzie Smith's camper van in Taupo, N.Z. She's traveled 8 months with mostly free-camping. While she's had many beautiful experiences, she also has some colorful stories. Suzie shared, "we once parked up in a city car park in Tallinn, Estonia for the night not realizing that the car-park serviced a strip club throughout the night!" Checking for reviews on the websites in my top 4 list may help you learn these conditions before you arrive! Follow Suzie's blog at iambutwandering.com and check out her Instagram!
Enjoy your time out on the open road, and take care to be considerate of everyone you meet along your way! Travel conscientiously to create a positive experience for yourself and fellow humans by following basic boondocking etiquette, which is succinctly described in this article by Colton R.V..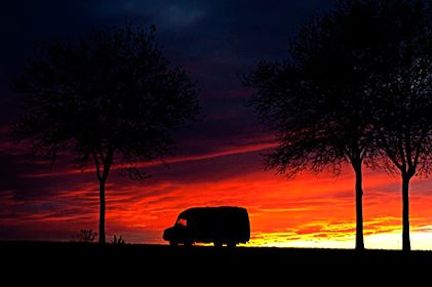 Photograph provided by Gerben Grotenhuis of GerbenGrotenhuis.com, taken at sunset in the countryside near Toulouse, France. Grotenhuis has lived in his van for almost 9 months and has never paid for a spot to sleep.