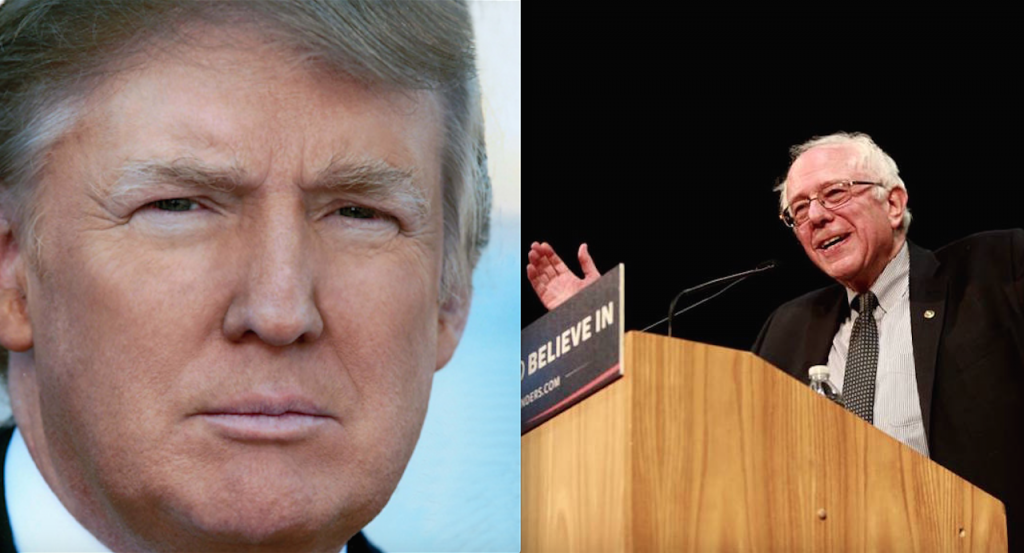 Businessman Donald Trump extended his lead in the race for the Republican presidential nomination by winning Tuesday's voting in three out of four contested states.  But the shocker of the day came from Democrat Bernie Sanders.  The Vermont senator scored a major upset over frontrunner Hillary Clinton in Michigan's Democratic primary election.
Clinton, the former U.S. secretary of State, had been a double digit favorite in the polls before Michigan's primary.  But on election day in the large northern state, Democratic Socialist Sanders narrowly defeated Clinton.  With 97% of the Michigan vote counted, Sanders led Clinton 49.9% to 48.2%. 
Overwhelming support from millennials was cited as an important factor in Sanders' stunning Michigan victory.  The 74-year-old Sanders received upwards of 80% of the vote from Michigan's 18-to-29-year-old group.
Meanwhile, a high-profile effort by establishment Republicans to derail Trump's momentum fizzled again at the ballot box as the billionaire outsider rolled to victories in three parts of the country — Michigan in the north, Mississippi in the deep south and the far west island state of Hawaii.  Trump only failed to win Tuesday's primary in the small western state of Idaho.  Texas Senator Ted Cruz finished comfortably ahead of Trump in Idaho's primary.
In Michigan, Trump, the real estate tycoon and former reality TV show host, fought off an all-out campaign by Ohio Governor John Kasich.  Kasich, one of the two remaining establishment candidates in the Republican field, looked strong early in the voting, but as the votes poured in, not only trailed Trump but finished behind Cruz in a tight race for second place.
Trump now has about a 100-delegate lead over runner-up Cruz, the other insurgent among the four remaining Republican candidates.  Next week's voting features crucial primaries in Ohio and Florida.  It will be must-win time for Kasich in Ohio and Senator Marco Rubio in Florida, his home state.  If Trump wins both of those large state primaries, he is bound to emerge as the presumptive Republican nominee with Rubio and Kasich probably ending their campaigns. 
As for the Democrats, Clinton was a big winner in a second state — Mississippi — as she extended her commanding lead in the tally for delegates to the Democrats' presidential nominating convention.  Even though Sanders has nine states in his win column compared to Clinton's 12 states, the latter has more than twice as many delegates committed to her as Sanders.