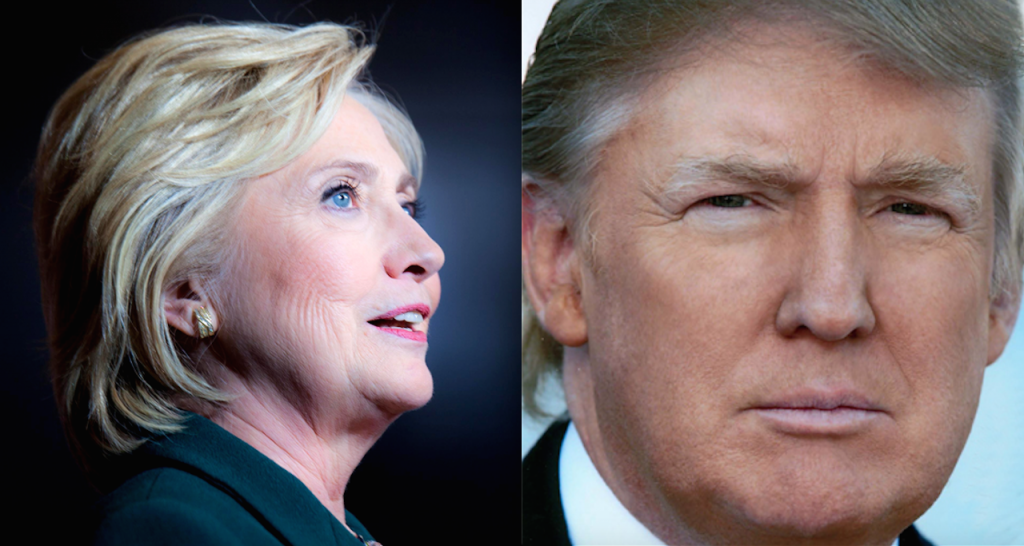 The animosity and glaring differences between two New Yorkers, Donald Trump and Hillary Clinton, will be on the line in the main event to succeed President Barack Obama.  While Trump staggered through the worst week of his year-long, high drama Republican campaign, Democrat Clinton became the first woman in American history to win a major party's presidential nomination.
The contrast in momentum was startling as Republican leaders and lawmakers sharply criticized their own candidate over a racially-tinged effort by Trump to remove the judge from his own civil case while at the same time Clinton swept to decisive primary election victories in four states over Bernie Sanders, her Democratic Socialist rival.  Sanders proved to be quite a formidable opponent with his progressive message, especially popular with millennial voters.
Clinton, the former secretary of state and New York senator, won the biggest prize with a surprising 13-point win in California.  Clinton also won elections on Tuesday in New Jersey, New Mexico and South Dakota while Sanders won the balloting only in the lightly-populated northwest states of Montana and North Dakota.
Meanwhile, Republican leaders of both houses of Congress, numerous senators and other elected lawmakers were on the verge of revolting against their presidential candidate over a widely-denounced attempt by Trump to pressure a federal judge into removing himself from hearing a class-action lawsuit accusing the businessman's now-defunct Trump University of defrauding former students.   A furor developed when Trump himself raised the personal issue in his presidential campaign by contending that the judge's Mexican heritage made him inherently biased in the case. Judge Gonzalo Curiel is a U.S. citizen, born in Indiana to parents who had emigrated from Mexico and formerly was a highly regarded federal prosecutor who coordinated a crackdown on a major Mexican drug cartel.
But Trump contends Judge Curiel has been unfair in his pre-trial rulings in the Trump University case and is biased because of Trump's signature campaign proposal to build a wall along the border with Mexico to block Mexicans from entering the United States illegally.
After Trump injected his views into campaign interviews during the past few days, many Republican and Democratic lawmakers denounced Trump's argument as racism.  Several called on Trump to apologize to Judge Curiel and display a more presidential demeanor in his campaign.
Trump has not apologized for any of his inflammatory comments during his campaign.   He maintained in a statement released on Tuesday that his remarks about the judge had been "misconstrued as a categorical attack against people of Mexican heritage."
Republican Senator Susan Collins of Maine dismissed the statement as falling short of an apology.
Some establishment Republicans have continued to oppose Trump's nomination even after he became the clear winner among primary election voters in a 17-candidate field.  Talk of finding an alternative candidate, especially in the wake of the Judge Curiel furor, has persisted.
Much of the anti-Trump sentiment centers on his resistance to softening his rhetoric and such extremely controversial  proposals as a temporary ban on all Muslims entering the U.S.   Republicans generally are wary of whether Trump will appeal to voters in the much more diverse general election, especially with Hispanic voters rising rapidly.  Up to now, Trump's appeal has been largely with white, working class voters with relatively little education.
In addition, Trump is likely to lose votes to a potentially formidable third party ticket. The Libertarian party has nominated two former Republican governors, Gary Johnson of New Mexico and William Wald of Massachusetts, as their presidential and vice presidential candidates respectively.  They've been interviewed on several national news programs and in recent general election polling, Johnson has recorded 10 percent and higher.
After Tuesday's California vote was tabulated, Sanders called Clinton to congratulate her, but he refused to concede the nomination and pledged to his many avid supporters to pursue their campaign to the party's national convention in July.   The Democrats' platform is likely to cater to Sanders' views to some extent.
Clinton called for the party to unify behind her while praising Sanders for the spirited, issues-oriented campaign that he has waged.  She also emphasized her first-hand experience in losing a presidential run.  Clinton lost a similarly fierce primary battle to Obama in 2008.
Sanders was called by Obama and they agreed to meet this week at the White House.  Obama has been eager to begin campaigning against Trump on behalf of the Democratic nominee.  The president, who is not allowed to run for a third term, was embarrassed four years ago when Trump led the so-called birther movement — a misguided theory that Obama was born outside the United States and therefore ineligible to be president.  Obama eventually produced a copy of his birth certificate that showed he was American born (in the state of Hawaii).
Before the California primary, polls showed Clinton and Sanders in a virtual tie. The 74-year-old Vermont senator had vigorously campaigned for 18 consecutive days in the nation's most populous state leading up to Tuesday's vote.
But Clinton's popularity surged in the past week, apparently driven by a well-received speech in which she bashed businessman Trump as "temperamentally unfit" to serve as America's commander in chief.  If Trump were elected president, Clinton contended that his mental stability would be questionable enough that he might conceivably "lead us to war just because someone got under his very thin skin."
Trump denied that he has thin skin, but that seems to be of little concern with the Judge Curiel dispute continuing to rage.