Josh Friedman reports from the March 3 protests in Skopje
By JOSH FRIEDMAN
SKOPJE, Macedonia – Three months following parliamentary elections, Macedonian political parties have still yet to form a government. Both political and ethnic tension is building in the small Balkan state of about 2 million people, and the U.S., EU, NATO and Russia are all taking interest in the ongoing crisis.
In the Dec. 11 elections, the VMRO party of former Macedonia prime minister Nikola Gruevski, which ruled the country over the last decade, secured 51 seats in the country's approximately 120-seat parliament. Opposition leader Zoran Zaev's Social Democrats claimed 49 seats, and the remainder of the parliament went to ethnic Albanian parties.
RELATED: MACEDONIAN ELECTION COVERAGE
The Albanian minority comprises about 25 percent of Macedonia's population. An armed conflict occurred in Macedonia in 2001, following the Yugoslav wars, between Albanian militants and Macedonian security forces. Also, in 2015, brief fighting broke out between Albanian militants and Macedonian forces in the town of Kumanovo in Northern Macedonia.
Since the December election, the ethnic Albanian parties have collectively played the role of the kingmaker. The leading Albanian party opted not to form a coalition with Gruevski's VMRO as it had done previously. Instead, multiple Albanian parties struck a deal with Zaev to form a government with the Social Democrats in exchange for making Albanian an official language nationwide in Macedonia.
The deal sparked large protests by supporters of Gruevski and Macedonian nationalists who say the move to make Albanian an official language could lead to the federalization of Macedonia or even breakup of the country.
On Wednesday, Macedonian President Gjorge Ivanov, who is politically aligned with Gruevski, announced he was refusing to turn over the mandate to form a government to Zaev because the deal with the Albanian parties was a threat to Macedonia's sovereignty.
The U.S., EU and NATO have reacted angrily to Ivanov's decision. Both Washington and Brussels have implicitly backed Zaev over the past couple years, during which Gruevski agreed to resign and hold early elections amid a scandal over mass wiretapping and other alleged abuses of power. NGOs, particularly billionaire George Soros's Open Society Foundation, have lent support to protesters opposing Gruevski.
Throughout the multi-year crisis, Gruevski has accused Zaev of colluding with foreign powers to carry out a coup. Gruevski has recently taken aim at Soros and his network of political activists. Gruevski's supporters have also expressed outrage at U.S. Ambassador Jess Baily for allegedly working to bring Zaev to power.
Russia, which has overtly accused the West of instigating the crisis in Macedonia, has provided limited political backing to Gruevski, mostly in the media sphere. As prime minister, Gruevski refused to join western sanctions against Russia despite his stated goal of Macedonian membership in both the EU and NATO. Gruevski also offered to let Russia's planned Turkish Stream gas pipeline run through Macedonia.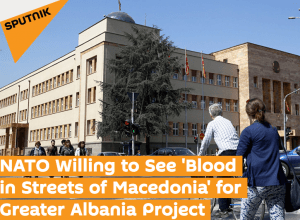 This week, Russian state media have run inflammatory headlines, such as "NATO Willing to See 'Blood in Macedonia' for Greater Albanian Project" — which appeared in Sputnik on Thursday. Russian state media are accusing the West of conspiring with Albanians to significantly expand the territory of Albania by way of land grabs in neighboring states, including Macedonia.
The West, in turn, accuses Russia of trying to instigate ethnic conflict in the Balkans to stop Euro-Atlantic expansion in the region.
In the Balkans, the West backed Albanian militants during the war in Kosovo, and ethnic Albanians in the region have since remained overwhelmingly loyal to the U.S., EU and NATO. Russia provides political support to Serbia, and Moscow strives for greater influence in the Slavic Orthodox areas of the Balkans, which also include Macedonia, Montenegro and parts of Bosnia and Kosovo. Moscow openly opposes NATO expansion in the region.
Macedonia, like much of the Western Balkans, is faced with major roadblocks on its paths to EU and NATO membership.