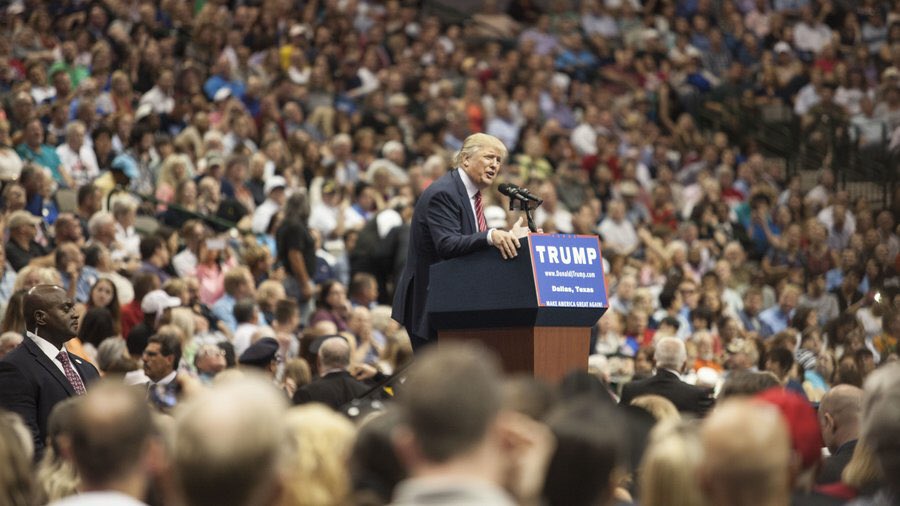 The night before the deadly terrorist attacks on Brussels, Donald Trump called for the United States to rethink its involvement in NATO.  Then on the same day as bombs were set off at the Brussels airport and a metro station, the Republican frontrunner in the U.S. presidential race scored another decisive primary election victory in a sizeable American state.    
Trump's success at the polls in Arizona, overcoming a stiff challenge from his chief rival, underscored the New York businessman's ultra-hardline stance on illegal immigration while expressing mostly isolationist views. 
On the eve of Tuesday's voting in Arizona, a key state on the southwestern U.S. border with Mexico, Trump said in a CNN interview that he regarded American support of the NATO defense alliance as too costly.  Trump said he wasn't advocating decreasing the U.S. role in NATO per se but favored reducing financial support.  The billionaire entrepreneur and former reality TV figure contended the U.S. is "paying disproportionately" for NATO security interests and European members should pick up more of the tab.
For example, Trump claimed that Washington has been "taking care" of Ukraine in its ongoing conflict with Russia while other European nations have failed to provide enough support for the Kiev government. Ukraine, however, is not a NATO member and the U.S. is not providing arms to the eastern European nation in its fight with pro-Moscow rebels. There has been other U.S. aid as well as a stake in international bailouts of the Ukrainian economy though.
Later in an MSNBC interview, Trump suggested that the longstanding North Atlantic Treaty Organization "may be obsolete" now.
Trump's NATO comments drew sharp criticism from both his chief Republican rival, Texas Senator Ted Cruz, and Democratic frontrunner Hillary Clinton.
"It is striking that the day after Donald Trump called for America weakening NATO…we see Brussels, where NATO is headquartered, the subject of an Islamic terrorist attack," Cruz said. "Donald Trump is wrong that America should withdraw from the world and abandon our allies." 
Clinton, the former U.S. secretary of state, defended NATO as one of America's best investments. What Trump is advocating, Clinton said, "would reverse decades of bipartisan American leadership and send a dangerous signal to friends and foes." 
"Putin already hopes to divide Europe," Clinton added. "If Mr. Trump gets his way, it will be like Christmas in the Kremlin. It will make America less safe and the world more dangerous."
The timing of Trump's NATO remarks could add to the tension following the bloodshed in Brussels.  The Brussels attacks apparently were carried out by the same cell of Islamic State terrorists that was blamed for last November's coordinated Paris explosions and shootings.  
Meanwhile, Trump swamped his competition in Arizona's primary election, receiving 47% of the vote to 25% for Texas Senator Ted Cruz and 10% for Ohio Governor John Kasich. Trump took away all of Arizona's 58 delegates to the Republican national convention as the party's establishment wing sustained another setback in its campaign to derail the insurgent frontrunner.
But Cruz rebounded later Tuesday with a resounding victory in the caucus voting of another western state.  Cruz nabbed 69% of the vote in Utah's caucuses with Kasich finishing a distant second at 17% and Trump trailing at just 14%.  The decidedly low vote for Trump in Utah, a state dominated by Mormons, provided additional evidence that Trump's appeal to religious voters is limited at best.  Cruz's one-sided win in Utah enabled the senator to receive all 40 Utah delegates. 
For the day though, Trump extended his delegate lead over Cruz to nearly 300.  Kasich, winner of the primary election in his large home state last week, didn't earn any delegates this week and remains a lightly regarded underdog with nearly 600 fewer delegates than Trump.
Although Kasich is the only establishment candidate left in the running, former Florida Governor Jeb Bush, the one-time favorite of mainstream Republican candidates, cast his support for right-leaning Cruz this week.  Bush, like several other establishment leaders, said he concluded that Cruz is the lone remaining candidate capable of blocking Trump from becoming the Republican nominee.
Among Democrats, frontrunner Hillary Clinton overwhelmed her Socialist challenger, Vermont Senator Bernie Sanders, in the Arizona primary election.  But Sanders roundly defeated Clinton in the caucuses of two smaller western states, Utah and Idaho. 
Despite Sanders' enduring popularity with liberal activists and young voters, the former secretary of state maintained her commanding 300-delegate lead as she drew closer to becoming the Democrats' presumptive presidential nominee.