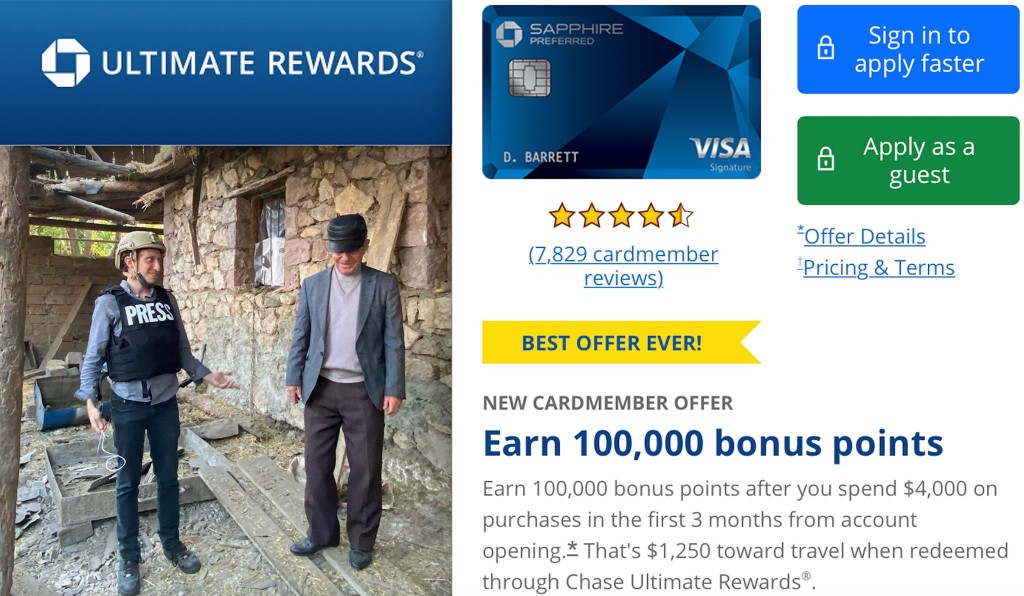 By JOSH FRIEDMAN
For US persons or anyone who has access to US credit cards, the Chase Sapphire Preferred (CSP) is a no-brainer right now…
if you can reasonably afford to spend $4,000 in the next 3 months; if you have opened 4 or fewer personal credits cards in the last 24 months; if you currently do not have a Chase Sapphire card; and if you have not received a bonus for a Chase Sapphire card in the last 48 months. A decent credit score is also required.
Unfortunately I have the Chase Sapphire Reserve (CSR), for which I received a bonus in the last 48 months, so I am ineligible for the current CSP signup bonus… which is a total of 100,000 points.
The bare minimum value you ought to get for 100,000 points Chase Ultimate Rewards points with the CSR is $1,000. It is possible to get at least that amount in cash back. In that case, you would be receiving 25% return on spend, which if spending $4,000 in 3 months is normal for you, is a very good rate.
But it can get better. If you spend the 100,000 points on travel through the Chase portal, you receive $1,250 worth of travel, i.e. flights and/or hotel stays. Using the portal is basically like using Expedia. Travel is priced pretty much at market value.
The value can get even better if you transfer the points to airlines, which you can do at a 1:1 ratio, and use them to book business or first class flights, or transfer the points to World of Hyatt, the loyalty program belonging to Hyatt, which is the Chase hotel partner that offers the most bang for the buck, or UR point. 
Chase's airline partners are: Aer Lingus, British Airways, Emirates, Air France/KLM, Iberia, Jet Blue, Singapore Airlines, Southwest Airlines, United Airlines and Virgin Atlantic. If you transfer points to any of these airlines, you can then choose to fly with them or any of their partner airlines. For instance, if you transfer points to United, a member of Star Alliance, you can then book a flight on an airline or airlines that are also members of Star Alliance. A bit more on that later…
The CSP signup bonus normally is 60,000 points with the same spending requirement as the current offer. The recent CSP signup bonus, which was also an elevated offer, was 80,000 points. 100,000 points is a record CSP bonus.
By comparison, the CSR comes with more travel perks and a much higher annual fee than the CSP. Yet, the currently elevated CSR signup bonus is just 60,000 points, also after spending $4,000 in 3 months. The normal bonus for the CSR is 50,000 points. When I signed up fo the CSR, I received a bonus of 50,000 points after spending $4,000 in 3 months. I was quite pleased with it, but my bonus was just half the point total of the current CSP offer.
If you want to get the CSR because of the better travel perks, you can get the CSP with the current signup bonus, then later upgrade to the CSR. That way you get the best of both worlds.
While I do have affiliate links for other Chase cards, I do not have an affiliate link for either the CSP or CSR because I don't have the CSP and there isn't a public referral program for the CSR. If you'd like to inquire about other Chase cards I have and/or recommend, you can do so in the comments below. Still, the best offer out there right now is the CSP.The CSP has a $95 annual fee. That means if you get no value out of the card other than the signup bonus for the next 10 years, at that point, you would still will be in the black. If you receive the signup bonus and spend the points on luxury travel, it could easily take you more than two decades to fall into the red on the card, and that would only occur if you receive no value or next to no value from the CSP other than signup bonus.While the card does not have all of the perks of the CSR, which I much prefer, the CSP still earns 2 Chase points per dollar on travel and dining worldwide and 1 point per dollar on most other purchases. The CSP has no foreign transaction fees, yet it does have an assortment of travel purchase protections and a variety of other benefits. 
And if you do not intend to upgrade to the CSR, and for some reason you don't see yourself getting value out of the CSP after receiving the signup bonus, you actually have the option to downgrade to a no annual fee Chase card, of which there are quite a few good choices. So with the downgrade option, you essentially have nothing other than a single payment of $95 to lose and a bonus of at least $1,000 to gain. You can find the 100,000 point CSP offer on the Chase website (https://creditcards.chase.com/rewar…/sapphire/preferred…) or in the affiliate links belonging to most credit card bloggers and vloggers.
RECENT FLIGHTS I BOOKED USING CHASE POINTS
As an indicator of the kind of value you can get from using Chase points to pay for (economy class) flights, here is an excerpt from my previous post, Flying To 4 Continents Off Chase Credit Card Points… And $87.20. Note that, when using the Chase travel portal, points in a CSP account can be redeemed at a rate of 1.25 cents per point, whereas points in a CSR account can be redeemed at a rate of 1.5 cents each — which is one useful perk of the CSR. Again, it is possible to earn the CSP signup bonus, then upgrade to the CSR.
I booked the flights by either converting Chase points to United miles at a 1:1 ratio or by using Chase points in my Sapphire Reserve travel portal, where they are redeemed at a rate of 1.5 cents each. Here is what I paid for each of the flights:
LAX-EVN (1 passenger) – 33,000 United miles + $64.20 in taxes and fees ($37.20) and insurance ($27)
EVN-LAX (1 passenger) – 30,466 Chase points
LAX-BOG (2 passengers) – 40,340 Chase points
LAX-ZNZ (2 passengers) – 88,000 United miles + $23 in taxes and fees•
Total points spent/converted to miles – 191,806•
Total taxes and fees and insurance – $87.20
All of the flights were economy class. Though I flew LAX-EVN roundtrip, I booked the two directions separately because I was not sure when and how I was going to return to Los Angels from Armenia.
On the LAX-EVN route, I flew with Turkish and Austrian, making stops in Istanbul and Vienna.
On EVN-LAX, I flew Austrian and Lufthansa, stopping in Vienna and Frankfurt.On LAX-BOG, we flew Copa, stopping in Panama in both directions.
On LAX-ZNZ, we flew Turkish and Ethiopian, stopping in Istanbul and Addis Ababa.
Due to unforeseen circumstances, we ended up adding 12 days in Istanbul and a leg (Istanbul-Vienna) to our LAX-ZNZ route. This came at no extra cost in terms of airfare and actually allowed us to step foot on 5, rather than 4, continents in the span of a few weeks since Istanbul itself spans 2 continents.