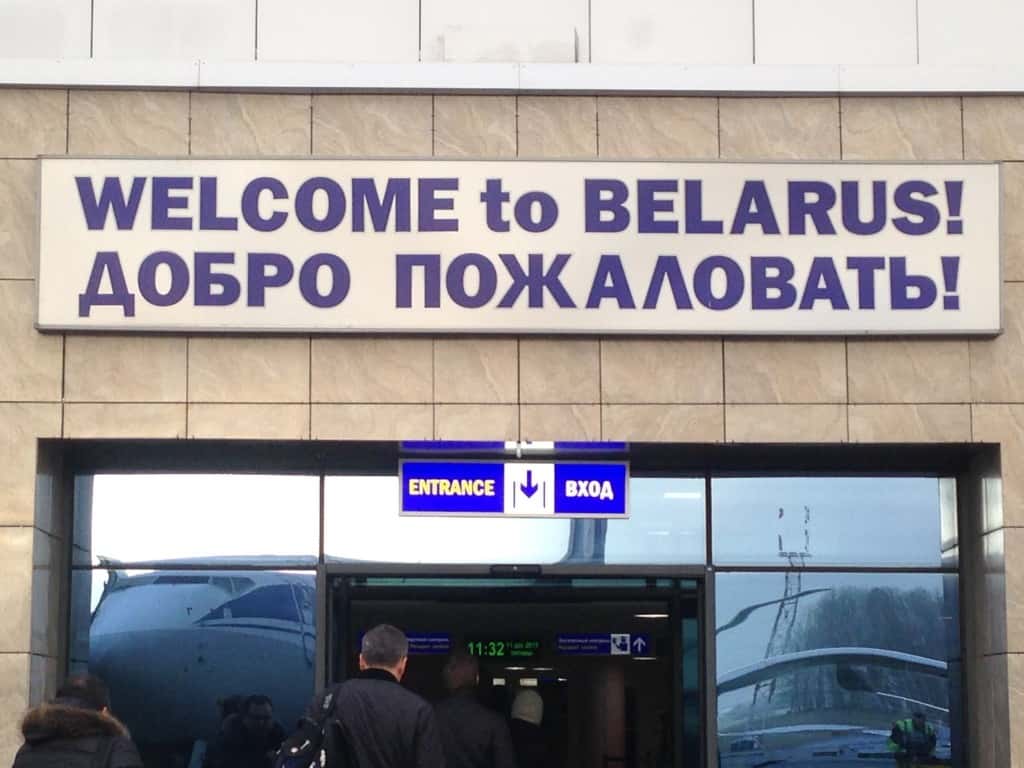 By JOSH FRIEDMAN
In a surprise move, internationally isolated Belarus announced earlier this month it is lifting visa restrictions on citizens of 80 countries, including the U.S., Canada and almost all European states. The former Soviet republic, which has been deemed by the U.S. to be Europe's last dictatorship, appears to be incrementally opening up to the West despite remaining in Russia's orbit.
Starting Feb. 12, individuals who hold passports from most of the 80 states that cracked the list may travel to Belarus visa-free on the conditions that they spend no more than five days inside the country and that they arrive in the former Soviet republic via Minsk National Airport. A health insurance policy that covers one's stay in Belarus is also required.
Passport holders from eight countries on the list, including China and India, must first obtain a multiple entry visa for Europe's Schengen area prior to flying into Minsk. That effectively means those travelers cannot enter Belarus visa-free, but if Chinese and Indian citizens are planning long-term trips to Europe, they can now add Belarus to their destination list.
All of North America and the European Union, as well as much of Central and South America, the Caribbean and the Middle East, now have visa-free access to Belarus. Other notable states to which Minsk granted five-day, visa-free access include Japan, Australia, New Zealand, Indonesia, Malaysia, Singapore and Hong Kong.
#Belarus introduces five-day #visa-free regime for citizens of 80 states starting from mid-February. LIST OF STATES https://t.co/FoV0jokWtE pic.twitter.com/hni9iKv9S7

— Belarus MFA 🇧🇾 (@BelarusMFA) January 9, 2017
Currently, citizens of only 20 countries can travel to Belarus without a visa. Eleven of those countries are former Soviet republics. The remaining 9 countries with existing visa-free access to Belarus consist of three states each from Latin America, the Middle East and the Balkans. They are: Cuba, Ecuador and Venezuela; Turkey, Israel and Qatar; and Serbia, Macedonia and Montenegro. Citizens of several of those states must have private invitations or tourist vouchers in order to enter Belarus without a visa.
Serbia, Montenegro and Macedonia, like Belarus, are countries with Slavic Orthodox majorities. Citizens of those Balkan states can also enter Russia without a visa.
Since gaining independence from the Soviet Union, Belarus has remained heavily dependent on Russia, particularly for cheap energy. Belarus is a member of Russia's Eurasian Economic Union, and the recent Russian economic downturn dragged down Belarus's economy.
Belarusian President Alexander Lukashenko has been in power in Minsk since 1994. Lukashenko has jailed numerous dissents, most notably following his contested 2010 reelection. In 2015, Lukashenko released several political prisoners, which prompted the EU to lift the sanctions it had imposed on the Belarusian president, government officials and companies.
Lukashenko is viewed as a go-between for the West and Russia. He often buds heads with his Russian counterpart, Vladimir Putin, and critics say Lukashenko tries to play the West and Russia off against one another in order to extract benefits.
In approving the visa waiver, Lukashenko is angling for reciprocation from the EU. Belarusian citizens currently need a visa in order to travel to Europe's Schengen Area. A total of 26 European countries, including a few that border Belarus, are Schengen Area members.
Last year, the Belarusian passport ranked 117th out of 197 passports worldwide. Belarus was tied in the rankings with Georgia, another former Soviet state. Both Georgia and Belarus' neighbor, Ukraine (96th), are expected to gain visa-free access to the Schengen Area this year. Georgia and Ukraine will jump in the passport rankings when that happens.
RELATED: WHERE DOES YOUR PASSPORT RANK?
Belarus, Ukraine and Georgia are all part of the EU's Eastern Partnership program. Brussels has used the program to forge ties with six ex-Soviet states — the other three being Armenia, Azerbaijan and Moldova — but none of the six countries are anywhere near ready to join the EU.
Like political freedom, economic liberty is very limited in Belarus, according to U.S.-based Heritage Foundation. Belarus ranked 157th out of 178 countries in the Heritage Foundation's 2016 Economic Freedom Index. Among European countries, only Ukraine placed below Belarus on the index.
Overreaching state control is cited as the primary reason for Belarus' poor economic freedom score. The private sector remains small in Belarus, but the business climate is said to be gradually improving.
Taxes in Belarus are relatively low by European standards. Belarus's income tax rate is 13 percent, and the top corporate tax rate is 18 percent. The average tariff rate is 3 percent.
Travelers who seize the opportunity to visit Belarus may also be interested in taking a trip to Kazakhstan, another former Soviet Republic. Kazakhstan recently lifted visa restrictions for citizens of about 40 countries, including the U.S., Canada and all of the EU.