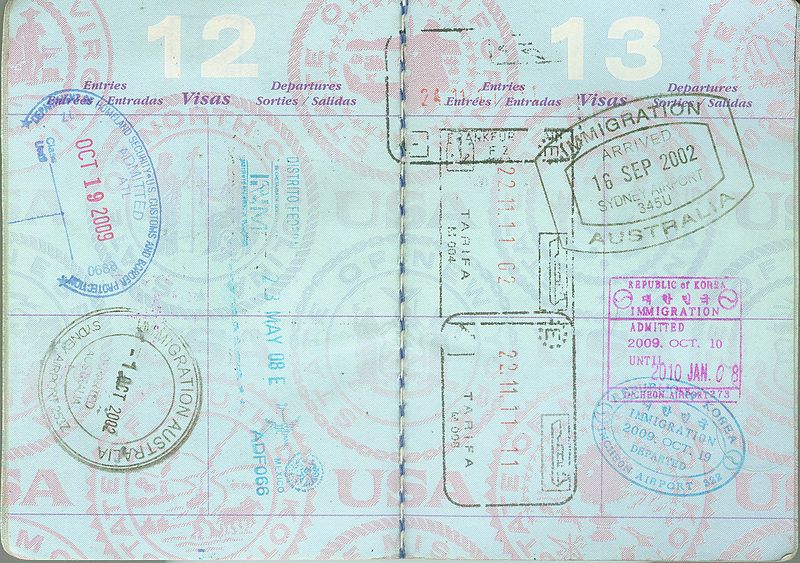 Seven countries issue passports that provide more visa-free travel options than the U.S. passport, according to recently released rankings. German citizens have the world's top travel document.
Henley & Partners (H&P), a residence and citizenship planning firm, ranks passports based on the number of countries and territories to which they provide visa-free access. H&P's Visa Restrictions Index ranks 197 countries and territories. Due to the way it groups nations that are tied, H&P ranks countries from 1 to 104. FreeManPost revised the rankings so that countries are ranked 1 to 197, with the order remaining the same.

A person's passport or passports greatly impact one's freedom. Whether it is a traveler who wants to visit a new destination, an entrepreneur who wants access to a new market, an over-taxed American who wants to forget about the IRS or an asylum seeker who wants residence in Europe, a person's travel document affects the amount of freedom he/she enjoys.
So how valuable is your passport?
Europeans' Travel Freedom
Europeans, in general, have the strongest passports. While a couple of Eastern European countries linger in the bottom half of the rankings, the top half of the H&P list is flooded with European states.
Eighteen of the top 25 passports in the world belong to European citizens, according to the H&P rankings. The top seven passports all belong to citizens of western and northern European countries.
In particular, EU citizens have many of the strongest passports. All of the 28 EU member states rank in the top 50, and 10 of the top 11 passports belong to EU citizens. Additionally, most EU citizens have the bonus of being able to live in the EU country of their choosing.
Germany (1/1), which is ranked first for the third year in a row, issues a passport that provides visa-free access to 177 countries. The Swedish passport is ranked second. Citizens of Sweden (2/2) have visa-free access to 176 countries.
Finland, France, Italy, Spain and the United Kingdom tied for third place. Citizens of those countries can travel visa-free to 175 countries. The UK (3/3) had been tied for first place for the past three years.
On Europe's eastern edge, Russia (48/81) has a weaker passport than the Baltic states — Latvia (13/33), Lithuania (14/34) and Estonia (14/34) — which are members of the EU. But, Russia has a stronger passport than all of its other post-Soviet neighbors.
Moldova (52/85) shot up in the rankings in 2014 when it gained visa-free access to the EU's passport-free Schengen Area. Georgia (71/117) and Ukraine (58/96) could obtain visa-free travel to the Schengen Area as soon as this year. Belarus (71/117), which is tied with Georgia, is further away from gaining visa-free access to the EU.
Currently, 26 European countries are members of the Schengen Area. Another three states are slated to join the freedom of movement zone.
The Five Worst Passports
Syria (100/193), Somalia (101/194), Iraq (102/195), Pakistan (103/196) and Afghanistan (104/197) issue the world's lowest ranking passports. Afghanistan has had the worst passport in the H&P rankings for several years running.
Libya (99/192) is narrowly on the outside of the bottom 5.
Though not factored into the rankings, Afghan, Iraqi and Syrian passports have recently been coveted by migrants and refugees seeking asylum. Over the last year, hundreds of thousands of asylum seekers have gained entrance to European countries by claiming they are citizens of Afghanistan, Iraq or Syria. In recent weeks, however, European leaders have largely booted Afghan citizens out of the refugee mix. Many Syrians and Iraqis are now being turned away as well.
North Americans
While the U.S. passport has lost a little of its luster, it still allows American citizens to travel visa-free to 174 countries.
In 2014, the U.S. tied for first in H&P's rankings, and in 2015, it tied for second. This year, the U.S. (4/8) fell into a four-way tie for fourth/eighth place.
U.S. citizens actually have visa-free access to two more countries this year than they did last year, but the countries ranked ahead of the U.S. made larger gains.
Canada (6/15) also issues a strong passport. Canadian citizens can travel visa-free to 172 countries.
Mexico (28/52) does not have an elite passport, but it is securely in the top half of the rankings.
Asians
Japan (5/12) and Singapore (5/12) have the highest-ranked Asian passports. They are trailed by South Korea (6/15), Malaysia (12/30) and Hong Kong (20/41), an autonomous region of China. Brunei (23/47) also has one of the 50 strongest passports.
India (85/147) and China (87/156) both fall in the bottom half of the rankings.
While they rarely get much of a workout, North Korean passports rank ahead of the travel documents issued by 17 countries on the H&P list. North Korea (95/178) bests five Asian countries — Bangladesh, Sri Lanka, Nepal, Pakistan and Afghanistan.

Other Regions' Rankings
Chile's passport (19/40) is the strongest in South America. Brazil (21/42) and Argentina (22/45) follow Chile.
Two tiny island nations have the highest-ranked passports among African countries. They are Seychelles (31/57) and Mauritius (35/62). South Africa (54/88) is the only African nation on the mainland to have a passport in the top half of the rankings.
Israel (25/48) is the only Middle Eastern nation in the top 50 of the revised rankings. The United Arab Emirates (38/67) and Turkey (51/84) are the only other Middle Eastern countries in the top half of the rankings. Turkey is currently petitioning the EU for visa-free travel to the Schengen Area. If approved, Turkey's ranking would significantly improve.
In Oceania, Australia and New Zealand have reputable passports. New Zealand (7/22) slides into the rankings just ahead of Australia (8/24).
Samoa (44/75) leads a group of several Pacific island nations that cracked the top half of the rankings.
When examining Caribbean countries, a passport's ranking often carries extra weight.
Shopping For a New Passport?
The economic citizenship business is a multibillion dollar industry. Several Caribbean countries, as well as some EU states, essentially sell their passports. People purchase second passports for economic purposes, such as business, banking and access to a tax haven. Travel perks and residence opportunities also factor in.
Two particularly attractive passports belong to the Caribbean countries Antigua & Barbuda (30/55) and St. Kitts & Nevis (32/58). Those two passports provide visa-free access to 134 and 132 countries respectively. They are also available for purchase.
Both Antigua & Barbuda and St. Kitts & Nevis offer citizenship to individuals who make a "donation" of around $250,000 to a government fund and pay additional fees. The two Caribbean countries also offer citizenship in exchange for purchasing real estate that the government values at $400,000 or more.
Economic citizens of Antigua & Barbuda and St. Kitts & Nevis have visa-free access to the majority of Europe, including the United Kingdom and the Schengen Area. They can also travel visa-free to popular business destinations Hong Kong and Singapore.
Dominica (41/70) offers a cheaper option to people in the market for a new passport. Making a $100,000 "donation" and paying additional fees can get one citizenship on the Caribbean island.
Though Dominica has a weaker passport than Antigua & Barbuda and St. Kitts & Nevis passports, it likewise offers visa-free access to the UK, the Schengen Area, Hong Kong and Singapore. Additionally, a Dominica passport holder can travel visa-free to Brazil.
None of the three passports come with visa-free access to the United States. Countries like St. Kitts & Nevis that can serve as tax havens and storage locations for offshore assets often run afoul of the U.S. government.
The U.S. is the lone country in the world that requires its citizens to pay taxes on income earned worldwide. In recent years, an increasing number of Americans have been acquiring second passports and renouncing their U.S. citizenship.
Two EU countries sell passports that do provide visa-free access to the U.S.
Austria (5/12) may have the world's most expensive passport, at least in the free market. A donation of at least 2 million euros or a business investment of at least 10 million euros can get one citizenship. But, the Austrian citizenship by investment program is not set in stone, and the passport suitor must impress the government. An Austrian passport comes with visa-free access to 173 countries.
Malta (9/25) offers a slightly more affordable and still reputable passport. It costs about 1.2 million euros to purchase Maltese citizenship. Economic citizenship on the Mediterranean island allows a person visa-free access to 168 countries.
The U.S. visa-waiver program allows Maltese citizens to use an electronic authorization system in lieu of obtaining a visa to visit the U.S.
Cyprus (17/38), like Malta, is an EU-member Mediterranean island that sells citizenship. Cypriot citizenship can be obtained by making an investment of at least 2.5 million euros. The Cypriot passport allows one to live in any EU country, but it does not provide visa-free access to the U.S.
Several other countries also offer citizenship through investment programs. Some take years to complete. Some are not clearly defined by law.
Additionally, some nations like Argentina (22/45) have residence programs that allow one to become a naturalized citizen after living in the country for multiple years. Other South American countries like Colombia (50/83), Peru (56/90) and Uruguay (29/54) offer similar programs.
Furthermore, countries like Ireland (6/15) and Italy (3/3) offer citizenship by descent, which allows individuals to claim citizenship based on their family trees.