Okay, it's not exactly a hostel. It's effectively a resort. But there is a hostel component to New Teddy's On The Beach, located in beautiful Jambiani on the east coast of the the main island of Zanzibar, Tanzania. This beach resort of sorts has dorm beds placed inside big beach huts that go for $24 a night.
$24 is less than you pay for a bed in a standard Western European hostel. And this bed comes with so much more bang for the buck, or euro, than a bed in name-that-overpriced hostel in Western Europe.
Aside from the bed — which is actually cozy for a hostel bunk bed — and the shared bathroom, you get all the comfort that comes with staying at a beach resort — on-site pool, bar, restaurant, hammocks, swings, bamboo umbrellas, delicious breakfast free of charge, views of sailboats and kitesurfers etc.
Can you actually work at this beach resort?
Does New Teddy's On The Beach make for a reasonable workspace for digital nomads, remote workers and location-independent entrepreneurs? In short, yes.
The wifi works well in the restaurant/dining area. It's not super fast internet, but by Zanzibar standards, it's about as good as it gets, and it's very reliable. I managed to video call and occasionally upload and download material with only slight difficulties.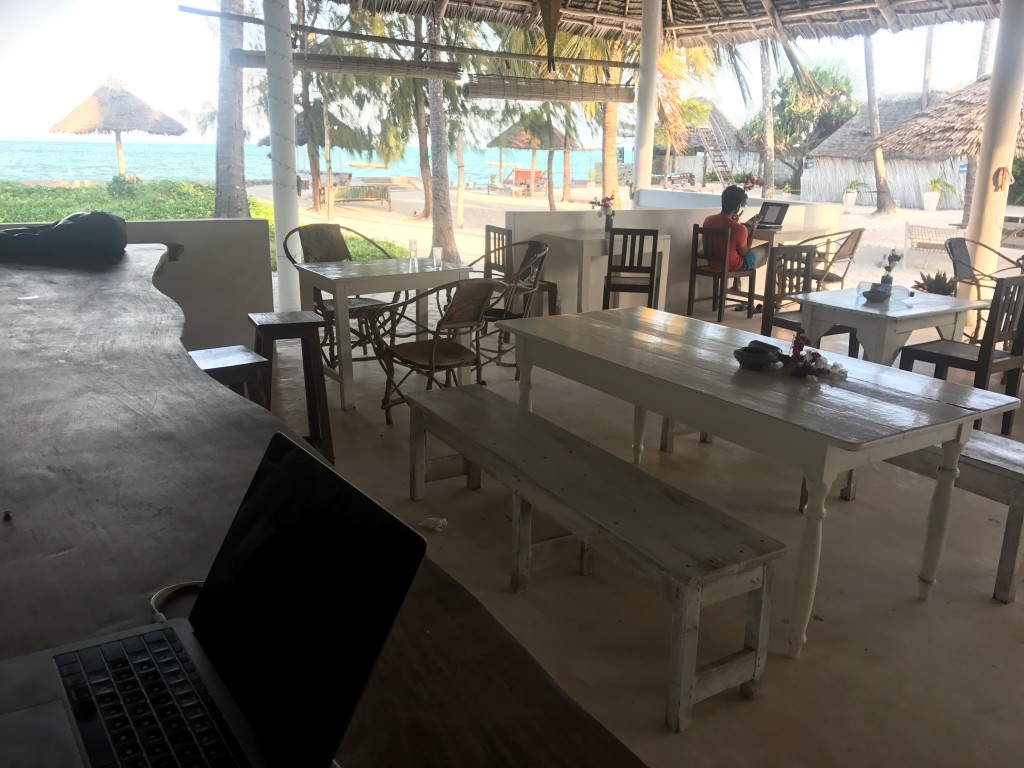 The dining area actually makes for a great workspace. There are lots of power sockets, including newly installed ones that fit European plugs, removing the need for an adapter. You have a choice of sitting, standing or lounging while you work. And, best of all, there is a beautiful Indian Ocean view.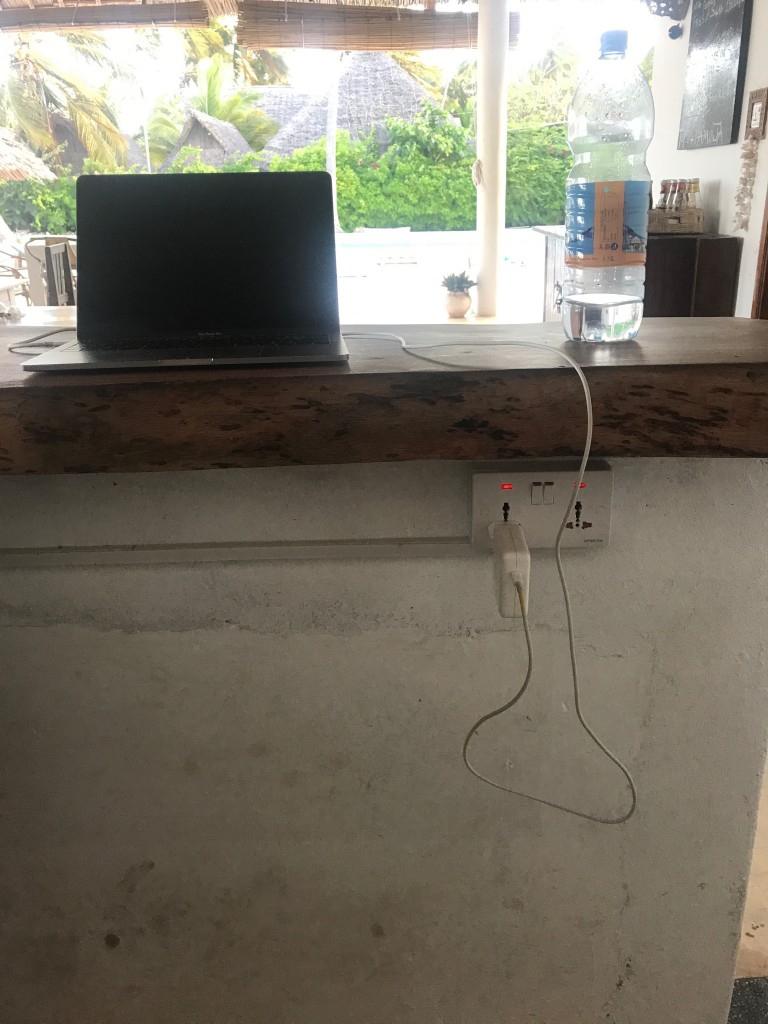 There is one drawback I should mention about the workspace. In the evening, watch out for the sand blowing in. The wind tends to pick up in the evening and blow a lot of sand into the dining area. A way to mitigate the sandstorm issue is to take your work to the bar, which doesn't get hit as hard.
Food and drinks
This is another example of the bang for the buck you get at New Teddy's. It's restaurant quality local cuisine at Eastern European restaurant-level prices. As an example, take my favorite dish — mishkaki. A plate of meat (mix of chicken and beef) skewers with sautéed vegetables and fries or rice costs $7. Swap the meat for fish and it costs less than $8.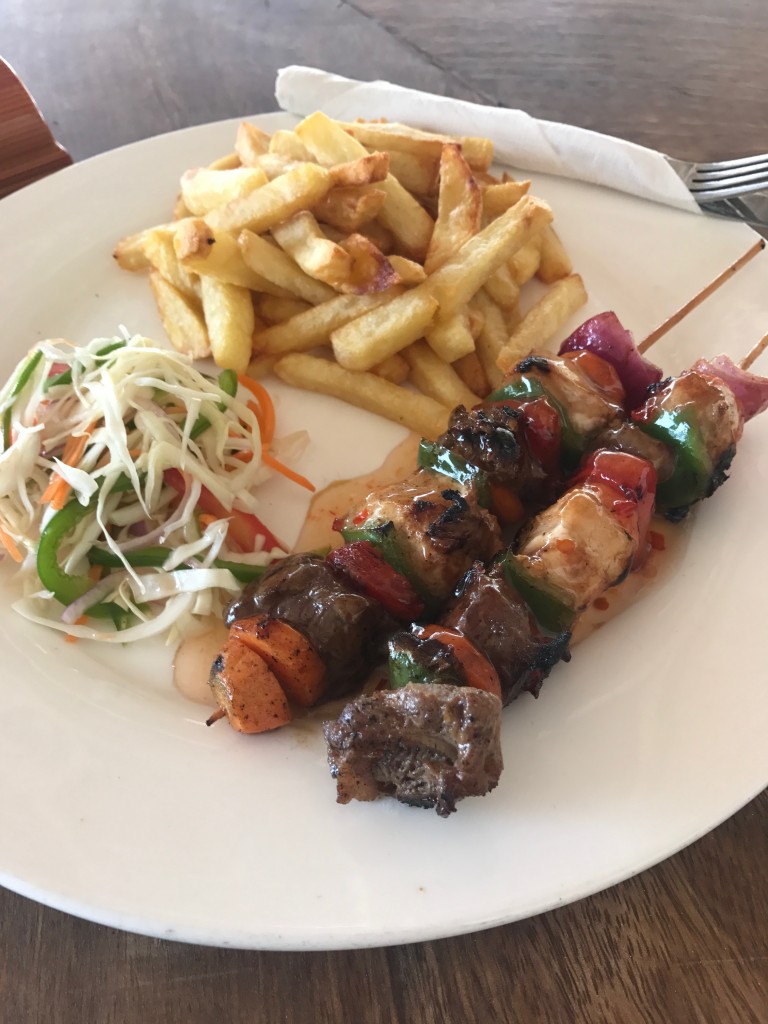 A beer or a glass of wine costs less than $3. A cocktail runs you a little more than $4.
As previously mentioned, breakfast is included in the price of the bed. You can go with an omelette or pancakes + fruit. Watermelon juice and tea and coffee are also included in the breakfast.
If you happen to be keeping a very tight budget, you can walk off-site a hundred meters or so down the village road and eat cheap at one of the restaurant huts.
More about Teddy's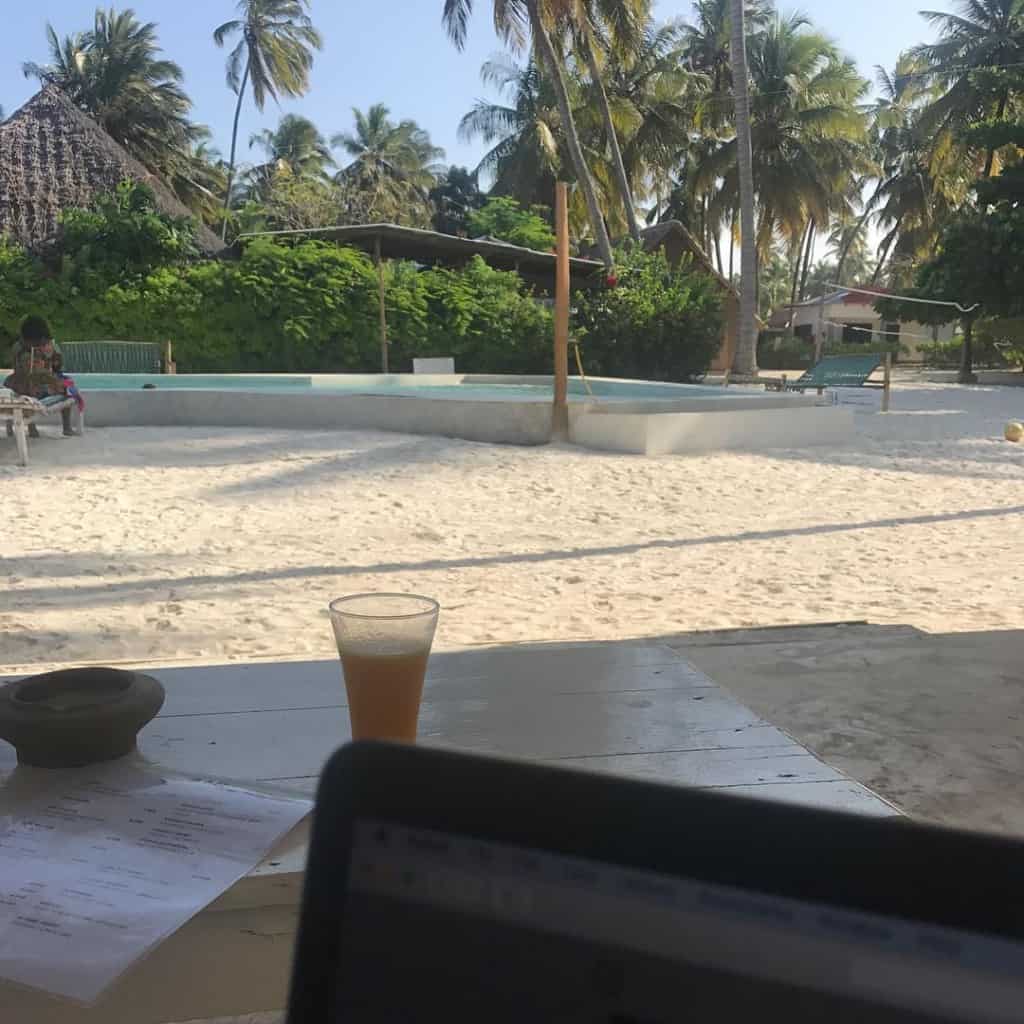 The staff treats you like family. Especially if you interact with them and pick up a few words of Swahili, they will love you and always look out for you and be happy to serve you. To the New Teddy's staffers, you are not just a rafiki (friend), but a kaka (brother).
Security is solid. There seems to be a culture of guests looking out for one another's belongings, or at least not stealing them. There are also security guys stationed on the property 24/7.
Why am I writing this?
This is not a sponsored blog post. I don't have any deal or arrangement worked out with New Teddy's. I just really appreciated the opportunity to live and work in paradise — in December and January no less.
Basically, I'm trying to get you to consider that, especially during the European winter, your money is probably going to buy you a lot more happiness at this strip of paradise (for $24 a night) than it will at some hostel in Western Europe that will likely get you a crammed space in which to sleep and stash your belongings and nowhere to relax or work remotely with comfort.
Zanzibar travel
Zanzibar is nowhere near Europe — at least compared to North African resorts on and around the Mediterranean. But lots of Europeans have discovered this archipelago off the east coast of Africa, and you can find reasonably priced flights from European cities to Zanzibar. Do a little searching and you should be able to find a roundtrip flight for about 300 euros.
Once you're on the island, you can get to Jambiani via taxi or dala dala — the local transport that resembles a bus… at times. If you're coming from Stone Town, a central point on the island, a taxi should cost you $25-35. A dala dala to Jambiani should cost you $1. Yes, literally, $1. But it takes some skill to navigate your way from Stone Town to New Teddy's via dala dala. You need to change vehicles at a certain dala dala stop and then know where to get off on the main road in Jambiani, so you don't have to walk a long way to New Teddy's. A happy medium option can be to take a dala dala to Paje and then a taxi to New Teddy's in Jambiani for probably $7 or $8. This option also allows you to avoid the super-crammed dala dala that goes to Jambiani.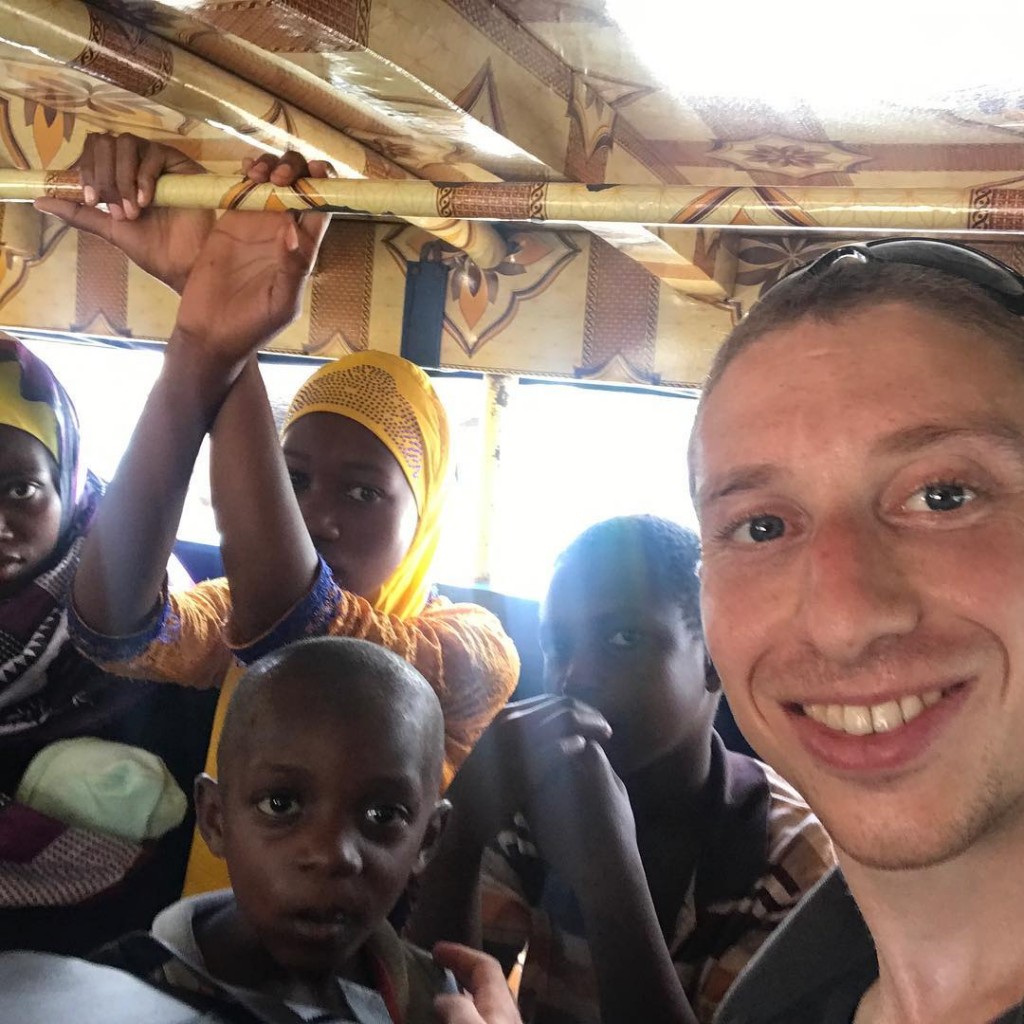 Also worth noting…
There are actually two New Teddy's in Zanzibar. The other one is New Teddy's Place in nearby Paje. The place in Paje is very similar, but I haven't stayed there, so I won't vouch for it. I would assume, though, it makes for a great place to stay and possibly work. Paje is kind of a larger, more popular version of Jambiani that is located slightly up the coast. You can bounce back and forth between the two Teddy's on a daily shuttle that is free of charge for guests.
Lastly, if you want to upgrade from a dorm bed to a private bungalow, the rates are reasonable. They start at around $64.
Unfortunately, my stay at Teddy's and in Zanzibar is drawing to a close. But I'm thinking of returning for New Year's 2020. Anyone else in??