By SABOOR NADEM
There are all too many reasons to escape from Afghanistan. Over the last four decades, Afghanistan has had more than 3 million people killed, wounded and displaced.
The country was and still is plagued by hundreds of terrorist groups, which are supported by high-level government officials who force and bully the people under various pretexts. In order for people to survive they have to comply with the demands of these terrorists.
In Ghor province, which is located in the center of Afghanistan, the lack of security and stable governance leads people to take matters into their own hands and to defend themselves by keeping weapons in their homes.
Insecurity, poverty and lack of prospects for the future, as well as the threat of the Taliban and ISIS, have driven a lot of people to try to flee the country.War, violence and devastation have dominated the lives of many Afghans for more than thirty years. I am one of the Afghans who were forced to leave their country because of insecurity and desperation. In fact, it was my occupation as a journalist, in particular, that forced me to migrate. My job became my own worst enemy.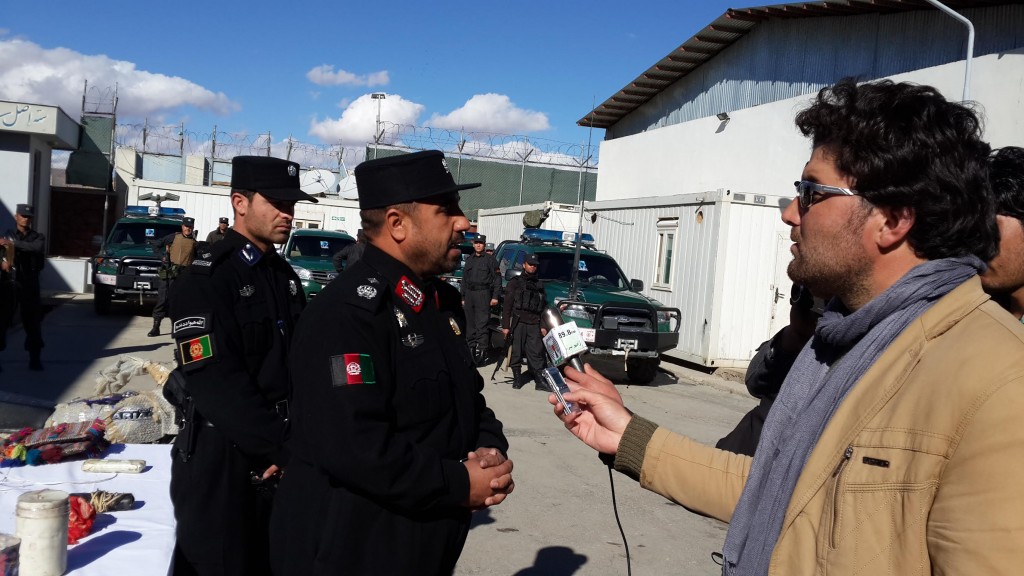 I am Saboor Nadem, a freelance journalist from Ghor Province in Afghanistan. I worked for 6 years with various media including television, radio and newspapers. My first four years as a professional journalist were challenging but were not so bad. It was when I accepted a position with Radio Firozkoh that, little by little, I started receiving direct and indirect threats from armed militants and government officials. They were trying to intimidate me. For two years I received so many calls, letters and messages from Taliban militants, government officials and others. Here are some examples:
A threat from the head of the Afghan refugee ministry in Ghor Province
It was the end of 2014. I cannot reveal the name of the top refugee ministry staffer in Ghor Province because it would risk the safety of my family. This official called me and gave me a warning when I published a report about the suffering of refugees who lost their homes and received no help from the ministry's local resettlement department. I covered their allegations in detail in a report broadcasted on the radio news program and published on the station's Facebook page. Just minutes after I left the radio station, I was returning home when the government department head called me to ask why I published this report. I told him it was my job to give people information about what was happening, and I only published what the refugees wanted to share. He responded me, "If you don't delete the report immediately, tomorrow you will be dead.'' I tried to reason with him but to no avail. He continued saying, "If you want to die, it's okay. Don't delete the report. You will only stay alive if you do what I say.'' This made me sad because I was intimidated by one of the most powerful and influential people in Ghor.
He could have anybody killed by just saying so. As I parked my car in a garage, I thought about what he said. I decided to … delete the report because there was nothing I could do. I didn't have any other choice.
A threat from the labor and social affairs ministry in Ghor Province
In 2015 I wrote a report about 6 women who worked for 8 months in the labor and social affairs ministry. They were promised they would receive payments and a sewing machine, but they did not. After they completed their work, the department head simply told them he was not going to pay them. He did not give them the money and sewing machine that he had promised. I interviewed the women and published the report on the Radio Firozkoh news broadcast.
Moments later, the local head of the labor and social affairs ministry called me and accused me of publishing lies. I replied that I only reported what these women stated in the interview and he could listen to what they said because there was a recording. He replied that if I did not delete the article, I would regret it. I told him that I was only reporting the women's story. He cursed at me and made threats that something bad would happen if I did not delete the article. Once again, I had no choice but to comply. I deleted the article.
A threat from the Mayor of Ghor province
This man threatened me many times during 2015, when I was striving to be the voice of the people, reporting about the problems they faced. I wanted the government to acknowledge these problems.
The mayor is one of the head officials of the province. In the case of Ghor Province, the mayor was treasonous. He was awarding land to his cronies in privatization deals. I wrote several reports about him, and then his relatives threatened me. Likewise, some members of the local council called me and told me that if I didn't stop I would regret it.
I wrote a report about land privatization deals, which discussed how people were complaining the land was being given to the mayor's relatives and other rich people. When I released this report, I received a lot of calls from people asking me to delete it. Some of the callers threatened they would kidnap me and kill me with a knife. I also received many calls when I was meeting in my house with a friend and with Abdul Qadir Ghafoori, the chairman of the journalists union in Ghor province. The callers cursed at me and threatened to kill me. Ghafooori answered the phone, and they told him we should come outside and that they would beat me and kill me. The phone rang again, and they told us they would come back later in the night to kill me. We didn't go outside. In Afghanistan it is easy, especially for powerful people, to have someone killed and get away with it. I called the mayor and asked why he was doing this. I told him that I did not publish fabricated stories and he could face justice for his deeds. I also asked him to stop the threats his people were making against me. He said I shouldn't have published the report, and now I had to be held accountable for my actions. He also said, "I never go to legal institutions. I can do it myself.'' In reality, I got tired of this situation, and my job created major difficulties in my life. I couldn't go out of my house or take a walk in the city, like I would do before, because I was scared for my life.
I went to the police station and reported the threats I had received; I also went to the criminal intelligence department and informed them about the threats. When I returned to the criminal intelligence department to ask if they had any news about my case, they said they couldn't find anything or anyone. I returned home and wrote a letter to the security forces.
In addition to the mayor, the refugee resettlement director and the head of the labor and social affairs department, other government officials also threatened me. I felt destroyed. I took the letter that I wrote and went to the security forces office and asked to see the director, Zeman Azimi. I explained my situation to him, and I gave him my letter. Azimi then wrote a letter asking the anti-terrorism department to assist me. Azimi's letter stated, "Please act according to the country's rules and regulations.'' I went to the anti-terrorism department and gave them the letter. The director told me he would present the letter at a security meeting, and they would look into my situation. As I was walking through the city, I was scared someone might kidnap me or stab me to death. After two days, I returned to the anti-terrorism department to find out how they could help me. They told me they cannot guarantee security for anyone. They suggested that I buy a gun and told me all they could do is give me a license to carry a firearm.
It was obvious that the security forces' offer to give me permission to carry a gun would not ensure my safety. In accordance with journalistic ethics and I my own values, I had to continue publishing real news and facts and just do my work the right way while facing kidnapping and death threats from government officials.
Every time the Taliban and ISIS were fighting with the government forces of Ghor Province, I reported on the battles. This created problems, such as the Taliban calling me and sending me letters demanding that I stop publishing reports that included the government's account of the battles. With every additional Radio Firozkoh broadcast on the matter, the problems worsened. Day by day, month by month, the situation worsened until, on 16-12-2015, I received a letter from the Taliban (which I summarize below). Then I had no choice but to leave my city. On 18-01-2016, I traveled to Herat to obtain a visa. At that time, the Taliban, as well as everyone else who had threatened me, were searching for me. My friends warned me I was being hunted and asked me to be careful. I stayed in various places in Herat, trying to hide. I was in a state of despair until 14-02-2016, when I managed to travel to Iran. Before going to Iran, I met with officials from the provincial council office, as well as security forces tasked with defending journalists and other members of the media. But all they did was express concern. Unfortunately, they said they could not do anything about my situation.
Summary of the final Taliban letter:
Saboor Nadem is the director of Radio Firozkoh and the station's Facebook page. He has never published the real activities of the Mujahedin, and as a result of a government crackdown against the Mujahedin, he only published what the government told him to say. He must be abducted and killed.
This letter was horrifying for me to read. On the one hand, I was receiving threats from government officials, and on the other hand, the Taliban had put my name on their kill list. I was facing grave threats from all sides.
My long road to Switzerland and a new life
My journey from Afghanistan to Switzerland was long and very difficult. I crossed Iran, a country whose government is hostile toward Afghan refugees. After making it across Turkey, I got in a boat to make the dangerous Aegean Sea crossing to Greece.
In Greece I was stuck both in a camp in Athens, where some refugees would fight each other and snakes would crawl on my tent at night, and in Idomeni, at a makeshift camp next to the Macedonian border where more than 10,000 migrants piled up and I witnessed with my own eyes two Syrian men set themselves on fire. One of the men died, while the other survived with severe burns.
I tried to cross the Greek-Macedonian border eight times before I succeeded. In each failed attempt, I would spend a few nights in the forest, where I had no food. Sometimes I would eat leaves that I picked off trees. On the ninth try, I crossed the border successfully and then made my way up through Macedonia and Serbia, where I got stuck again as I tried to reenter the EU.
After spending nearly a month in a camp without any facilities on the Serbian-Hungarian border, I then spent another four weeks just meters away inside Hungary's detention center that was constructed out of shipping containers. When Hungarian police finally let me go, I went to Budapest, found a smuggler and embarked on my journey to Central Europe in the back of a large truck, where I was alone, locked inside a container for two and a half days. There was no ventilation, making it not so easy to breathe, and I had no idea when and where I was going to be let out of the back of the truck.
By chance, the truck stopped in Basel, and I stepped out onto the street as a semi-free man in Switzerland. My asylum process was not easy either. For more than two and a half years I waited, not knowing whether or not I would be allowed to live in Switzerland. But now I am very happy to be a legal Swiss resident enjoying a beautiful and secure country with lots of nice people.
Unfortunately, there are many people who are not as lucky as I am, some of whom are still stuck in war-torn Afghanistan. My heart aches for my fellow countrymen who, like me, have dared to challenge the authority of the government and militant groups vying for power, yet unlike myself, remain in desperate search for refuge.
Nonetheless, I am forever grateful for the Swiss government placing belief and trust in me. I hope in the future I will be of service to this great country I call home.
A Reporters Without Borders letter to the Swiss government vouching for Nadem: